Welcome to WordPress. This is your first post. Edit or delete it, then start writing!
PolymerExpert - ESTOGEL® & EXPERTGEL® in formulation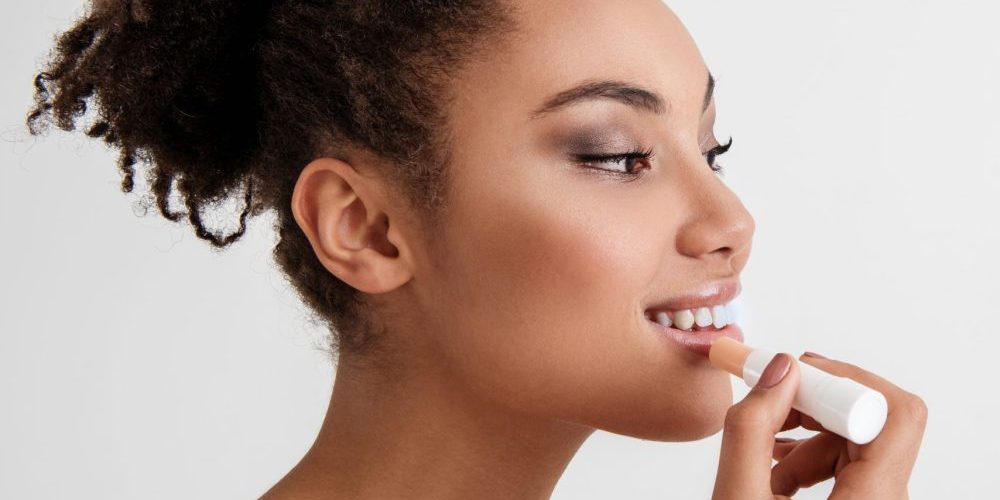 The cosmetics industry is constantly on the lookout for innovative raw materials. Our French supplier, PolymerExpert, has therefore decided to make this its mission, in particular with the development of 2 ranges: ESTOGEL® and EXPERTGEL®.
ESTOGEL® are bio-based oil gelling polymers that replace macromolecules of fossil origin. These fully or partially biosourced polymers, depending on the grade, are derived from castor oil. These rheological agents produce transparent oily gels with suspensive properties. These highly natural gelling agents for polar to moderately polar oils are easy to use.
EXPERTGEL® are water-soluble polymers that are liquid at room temperature and gel at body temperature. Thanks to a unique and innovative technology, the gelling temperature of EXPERTGEL® can be easily adjusted to suit a wide range of applications. An SPF booster, this intelligent thickening agent makes it possible to create sprayable, film-forming products.
In the formula below, ESTOGEL® M and ESTOGEL® Green are used in synergy to form transparent sticks. The hardness of ESTOGEL® M is balanced by the softness of ESTOGEL® Green. This transparent stick formula glides onto the lips, leaving a thin layer of moisture.
ESTOGEL® M, which makes up the majority of this formula, stabilises the formula and gives it a soft, silky feel.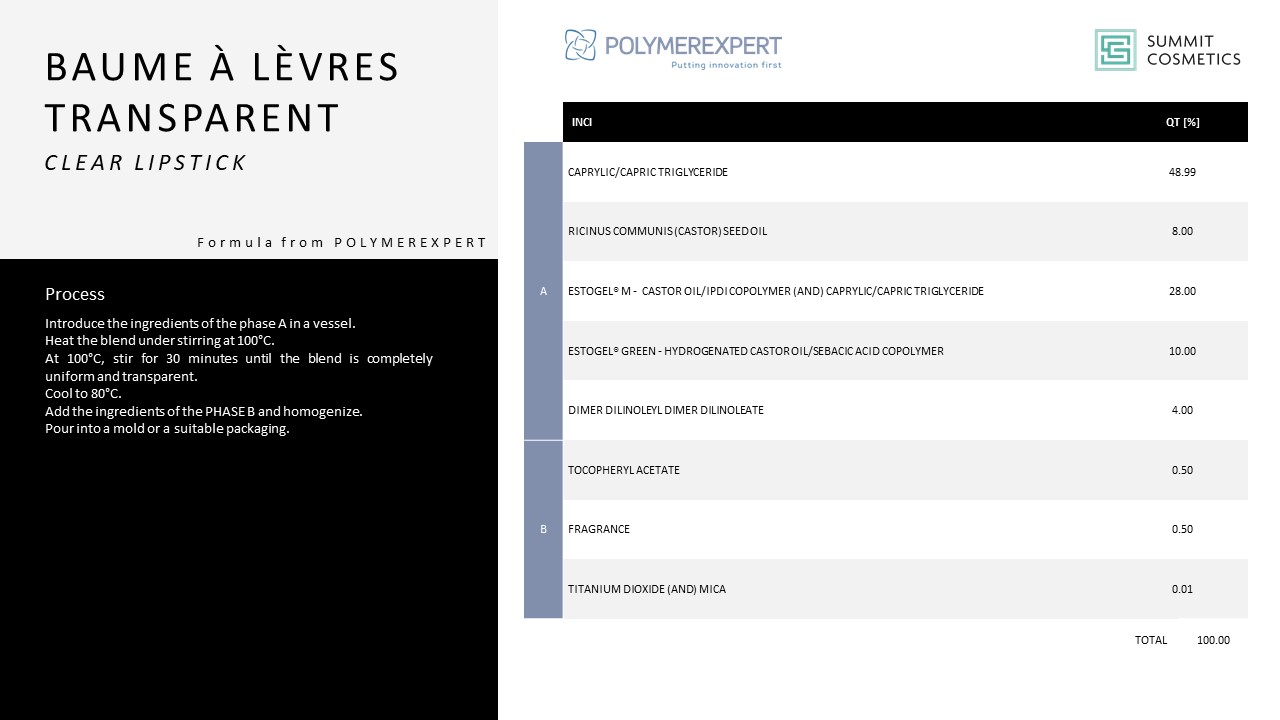 EXPERTGEL® EG312 is a thermosensitive, reversibly gelling copolymer gel. It behaves like a liquid at room temperature and gels as the temperature rises. It forms a flexible, resistant film on the surface of the skin.
In this formula, integrated at 3%, it adds a creamy, enveloping texture to this hand cream, for a long-term moisturising effect.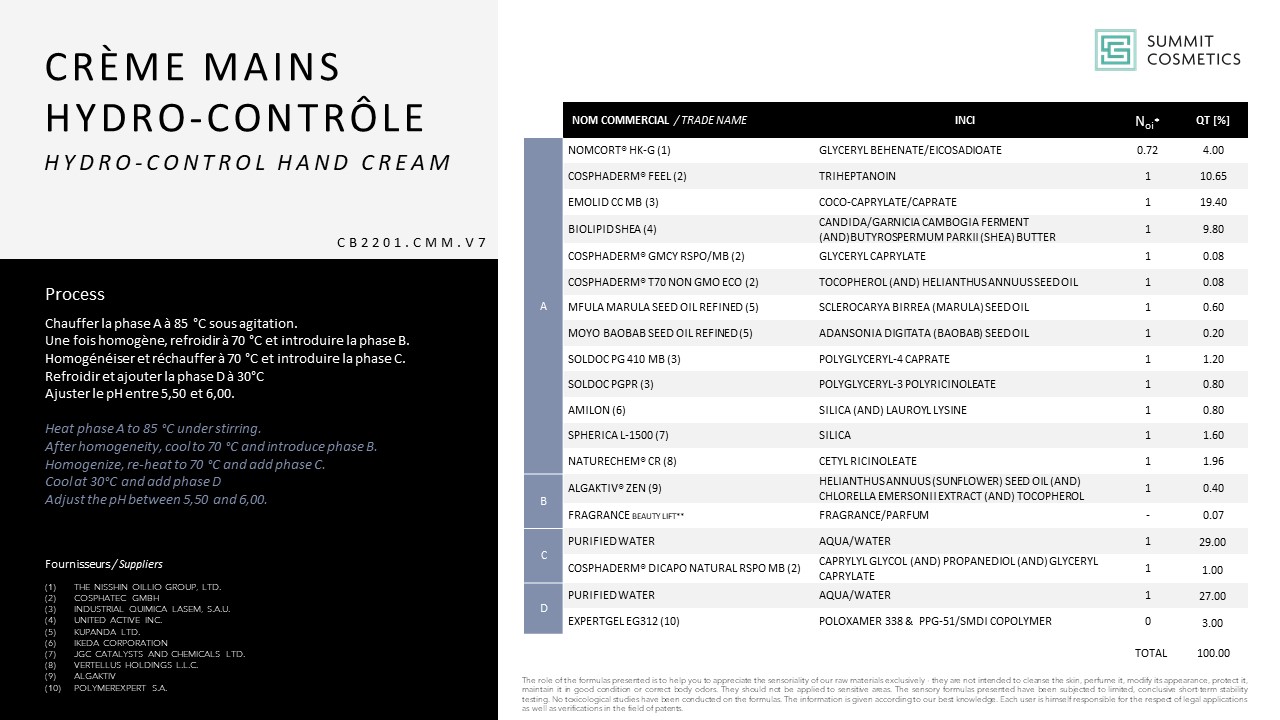 Because EXPERTGEL® EG312 has film-forming and SPF-boosting properties, it can be used in suncare formulas. In synergy with ESTOGEL® Green in the following formula, they help to achieve a soft, silky effect, while optimising the film-forming and water-resistant effect of the formulation.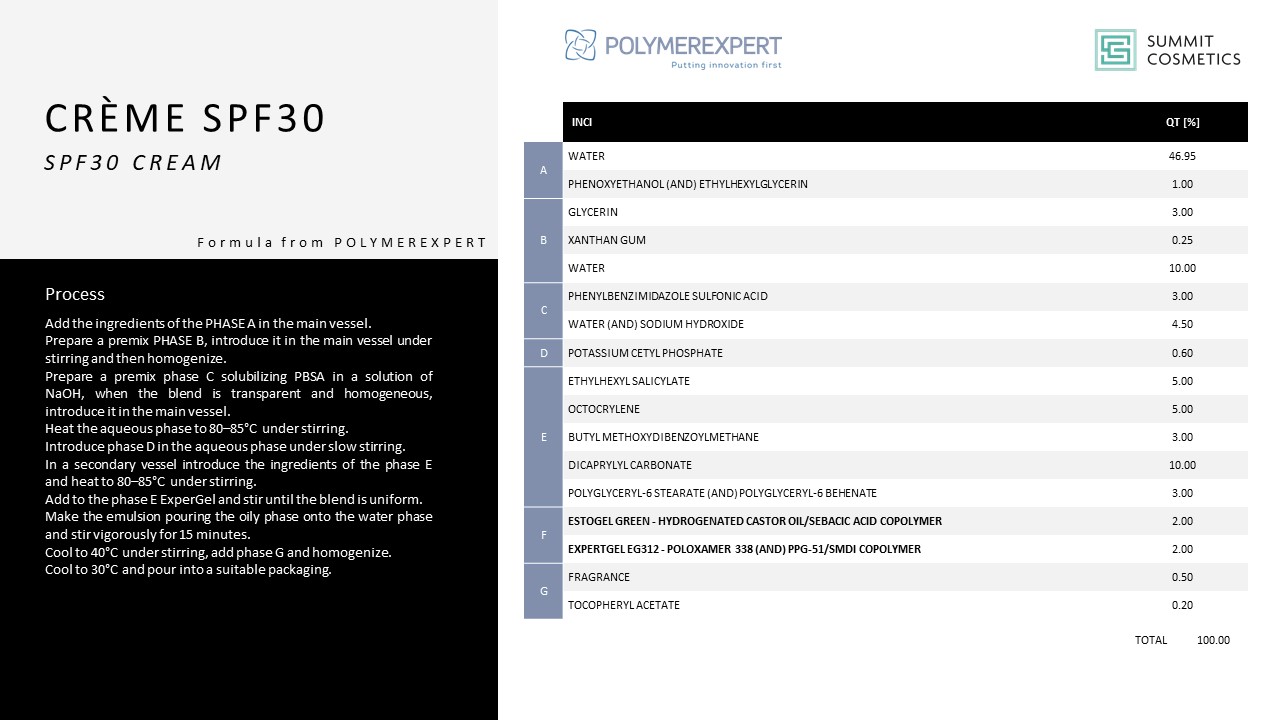 PolymerExpert's ranges of gelling agents allow you to obtain different textures and formats depending on the synergies and percentages incorporated into the formulas. From sticks to fluid emulsions, ESTOGEL® and EXPERTGEL® will be your allies in all types of formulations.
Need more information? Please contact your sales representative at Summit Cosmetics Europe or send your request directly to contact@summitcosmetics-europe.com.